When Alex Minneboo launched his All Things Good home performance enterprise, he retained the essence of what got him started in home improvement. Advice from friends suggested he keep the "All Things Good" name because that set us apart from our construction competition. We want to ensure that "All Things Good" come to your home when our team works for you. When gathering our team of experts together, we verified that each one has the necessary skills, both specialized and comprehensive, to provide the best possible service.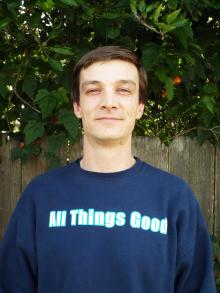 Martin "Alex"
Minneboo
Alex grew up around the construction and energy efficiency industries and has been at it since graduating from college. He has worked as a carpenter (both rough and fine), cabinetmaker, has installed structural concrete, electrical, plumbing, HVAC, insulation, and has developed energy designs. Alex holds a bachelor of arts in language studies from University of California - Santa Cruz, 2012. Alex is Building Performance Institute certified in three disciplines:
Building Analyst
Envelope Professional
Multifamily Building Analyst

Building Performance Institute Certification
For home performance professionals, training and certification by the Building Performance Institute (BPI) ensures solid competency in various home performance areas. BPI is a non-profit organization that develops standards for energy efficiency retrofit work based on open source consensus and sound building science.
Alex: "I understand how everything is supposed to come together in home performance. Our approach at All Things Good is to integrate all your home's systems —it's tricky but incredibly important—to get the best result. My passion is to provide top-level services and advice for all types of construction projects. Without good information and execution, it's hard to make the best decisions. I love helping homeowners to get more out of their home than they thought possible."
Manuel "Ricki"
Zapata-Chan
Crew Foreman & Lead HVAC Installer
An experienced HVAC pro since 2005, Ricki holds the required EPA 608 certification for air conditioning and refrigeration. He also oversees electrical, rough carpentry, air sealing
and installation of HVAC, plumbing, tankless water heaters, ductwork, and insulation.
Ricki: "A few months after starting in the industry, I worked on a job that helped me understand the benefits of our work. We were asked to replace a furnace in a doctor's home. One of the children in the family suffered from asthma. During inspection of the crawlspace, disconnected ducts were found along with evidence of rat infestation. We did a complete cleanout and sealed the duct system. Months later, the homeowner called back to say their son's asthma had cleared and how happy they were with the comfort in the house. I really understood then how we could make a difference in people's lives."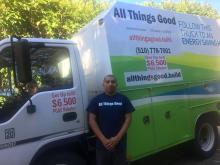 Cesar A.
Zapata-Chan
Cesar is new to home performance, and joined All Things Good in 2016 His skills include duct installation, air draft sealing, blown-in insulation, and electrical work.
Cesar: "I am enjoying the entire trade and learning the work."
Eric
Xu
As part of your home performance improvements, Eric will assist with providing the appropriate information for energy rebates from your local utility, the State of California, and others, when applicable.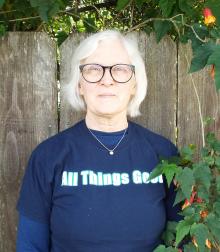 Laura
Laura provides support for field crews by securing permits, scheduling inspections, and coordinating with subcontractors and suppliers. In the office, she supervises customer support through phone and email.
Laura: "Being new to the industry, I love how much I have learned already and I continue to learn something every day. We have great people on staff and wonderful customers!"